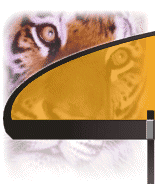 Tiger II WAP Tools

TigerII Tools is a WML toolbox. Includes WML editor and WBMP images editor. WBMP format is the only one image format supported by all WAP based software and hardware

Tiger II Tools

TigerII Tools is a HTML toolbox. You will find here advanced wizards that will help to create several parts of your website eg. complex tables and forms,galleries.

Tiger II MiniPad

TigerII MiniPad is simple text - editor that allows you to make quick changes in text files without starting big editor application. It can be used insted of standard Windows Notepad.
© Marcin Łagonda for Vega s.c.
16542




Requirements:
Windows 9x/Me/NT/2000
200 MMX
32 MB RAM
10 MB HDD


TigerII MiniPad
Download version 1.0.16: PL / EN






TigerII MiniPad is simple text - editor that allows you to make quick changes in text files without starting big editor application. It can be used insted of standard Windows Notepad.


Adventages:

Syntax highlighting HTML, PHP, PERL, PASCAL,
Printout preview,
Multilevel UNDO,
Regular expresions,
handles files bigger then 64kb,





| | |
| --- | --- |
| Freeware | |