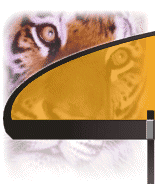 TigerII WAP Tools 1.0.1

TigerII WAP Tools updated. Download new version.

TigerII Tools 1.1.2

supports now PNG graphic format. That was the main but not the only one change, XML and C++ syntax highlighter for MiniPad. New fatures in Image Cutter.

TigerII WAP Tools 1.0

New toolbox is available. This time for WAP website developers.
Mailing list

If you want to be informed of software updates enter your e-mail addres below






© Marcin Łagonda for Vega s.c.
92951


News



18 June 2002

TigerII WAP Tools 1.0.1



TigerII WAP Tools updated. Changes in new version:

quick table adds COLUMNS parametr to TABLE tag,
minor chages in wordwraping function (should work faster),
increase indent and decrease indent functions added,
corrected functionality of SAVE and SAVE AS functions,
file extension (if not specified) is properly added (.wml)
EXECUTE document option add. This command executes default browser for WML files. I personaly recomend M3GATE borwser - http://www.numeric.ru/m3platform/m3gate/
keyboard shortcuts to formating tags,





...Previous | All | Next...