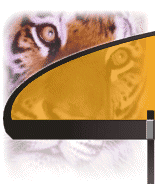 TigerII WAP Tools 1.0.1

TigerII WAP Tools updated. Download new version.

TigerII Tools 1.1.2

supports now PNG graphic format. That was the main but not the only one change, XML and C++ syntax highlighter for MiniPad. New fatures in Image Cutter.

TigerII WAP Tools 1.0

New toolbox is available. This time for WAP website developers.
Mailing list

If you want to be informed of software updates enter your e-mail addres below






© Marcin Łagonda for Vega s.c.
92948


News



20 April 2002

TigerII Tools 1.1.0



TigerII Color Picker was added to the package.This tool helps with choosing best color scheme for your website.
Short description:

Color edition in RGB and CMYK modes,
Captures colors directly from the screen,
Imports and exports palettes from and to Paint Shop Pro,
Exports color schemes to HTML document and Style definition (CSS),
Copies edited color to the clipboard in selected format (HTML, JAVA, VC, DELPHI etc.),
Recognizes pasted color format,


Changes in existing tools:
TigerII Image mapper:

do not add empty line on the end of the HTML document when saving map,
right click selects object before showing popup menu,
image can be zoomed. That can be helpful when precision is needed,


TigerII MiniPad:

Extened HTML highlighter,
Removed flag TAGS IN UPPERCASE,
Wordwraping changes caret position,
LI Tag is not added if in the line before was empty,
Improved text selecting,
Optimized text editing,
Do not add empty line on the end of the HTML document when saving map,
Correced END ker reaction (jump to the end of the line) on very long wordwraped lines,
Select All moves caret to the end of the document,
Line numbering considers wordwraped lines. They have the same number,
Line numbers can be shown in left bar,
Pascal highlighting in some cases might cause the editor hang up.





...Previous | All | Next...