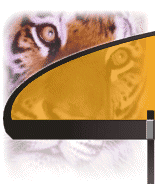 TigerII WAP Tools 1.0.1

TigerII WAP Tools updated. Download new version.

TigerII Tools 1.1.2

supports now PNG graphic format. That was the main but not the only one change, XML and C++ syntax highlighter for MiniPad. New fatures in Image Cutter.

TigerII WAP Tools 1.0

New toolbox is available. This time for WAP website developers.
Mailing list

If you want to be informed of software updates enter your e-mail addres below






© Marcin Łagonda for Vega s.c.
92946


News



04 March 2002

Tiger II Tools 1.0.1



TigerII Tools is a HTML Toolbox. It helps with preparing some advanced HTML structures, like complex tables as forms, maps, galleries. Helps also with cuting images. Tools in the package:

Tables and Forms wizard - helps with creating complex tables and forms
Image Mapper - allows creating maps on images,
Gallery wizard - quick creates gallery with navigation mechanizm,
Image Cuter - allows cuting images into smaller parts,
TigerII Minipad - small HTML editor.

More...



...Previous | All | Next...